After Reading This, You'Ll Never Look At A Banana In The Same Way Again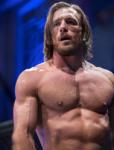 katolotus
✭✭✭
After reading this, you'll never look at a banana in the same way again
This is interesting. After reading this, you'll never look at a banana in the same way again. Bananas contain three natural sugars – sucrose, fructose and glucose combined with fiber. A banana gives an instant, sustained and substantial boost of energy.
Research has proven that just two bananas provide enough energy for a strenuous 90-minute workout. No wonder the banana is the number one fruit with the world's leading athletes.
- See more at: www.undergroundhealth.com
_____________________________________________________________________________
Reading the first two paras above and you'd think it was a negative piece, but it's actually a positive piece!
I think the fact 99% of people eat a banana after less than 45mins of exercise if one reason 99% of people shouldn't eat banana's too often. I ate one most days for 30-35 years. Not eaten one since going bulletproof and getting fat adapted.
Katolotus
MMA Fighter
SUCCESS: A lot of little things done well