Motivation Models & Hacks
ACH85
✭✭
I've noticed a few posts lately, from both newbies and experienced BPers, claiming that they fall off the wagon, need more motivation, etc.
For those who can make big, sweeping changes successfully, more power to you. I personally sometimes find that works best. If that's not working, however...
I wanted to make 1) a thread that will contain various theoretical models for motivation and willpower hacks, and 2) a post about the models and hacks I believe are most accurate and powerful.
I'm hoping people help me with #1 as they post in this thread.
The below is all #2.
---
I'm a big fan of a Stanford professor named BJ Fogg. Interestingly, he's already been mentioned twice on the forum, both times by BP staff. Dave, are you holding out on us?
He's got a behavior model, a tiny habits strategy, and likes feedback loops.
A quick note: BJ Fogg studies behavior, and many of his ideas are applicable to things like e-commerce and user behavior online. In this post, I will include some examples involving those things, because I have a background in sociology and online marketing and find that stuff super interesting. Also because it adds proof of concept for this model.
Let's dive in...
Behavior Model:
Take a look at that for a moment.
This is how we subconsciously decide whether or not to do something. This is also why Amazon.com offers one-click buying (ability = super easy) and hits you with so many emails and "customers who bought this also bought..." options (triggers.) Amazon is successful in part because they increased ability and triggers, making buyer motivation less important to the purchase process. Scary.
Not shown is that the order of influence is: triggers, ability, motivation. That's right: your motivation to do something is least influential in whether or not you'll do it in many cases. Unless you have a life-changing moment, or your motivation is really high at the time of the decision.
Based on the above, when you fail despite your motivation, it is because you have been ( a ) triggered to do something that is ( b ) really easy to do. Example: you were motivated to eat a BP dinner when you got home from work, but you saw the McDonald's golden arches (trigger) and the drive through was open (easy.)
Therefore, your success strategy should involve making the better choice really easy to do (shop ahead of time, make BP meals in advance so you have them ready to eat right now) and trigger yourself early (set an alarm to eat your pre-made meal just a bit before you usually get hungry.) If you want to get hardcore, you can make sure you have no cash or credit cards in your wallet on your commute home, making stopping at McDonald's quite a bit harder to do.
The Behavior Model informs the...
Tiny Habits Strategy:
Big changes are hard. According to BJ Fogg's "tiny habits" strategy...
"Only three things will change behavior in the long term.

Option A. Have an epiphany
Option B. Change your environment (what surrounds you)
Option C. Take baby steps"
So, since in most cases it's hard to change your environment (workplace, other people you live with,) and the health epiphany you've clearly had (by virtue of being here) isn't quite doing the job all the time, you must resort to taking baby steps. Baby steps is essentially from the Behavior Model: reducing ability to the point where your initial goal is ridiculously easy to achieve. The most famous example of this is: BJ Fogg did not floss enough, so he set a goal to simply floss the single gap between two teeth every night. It's a ridiculously low-bar goal, but of course most nights he ended up flossing every tooth. If he only flossed one tooth, he didn't feel like a failure. Failure leads to a cascade of bad choices, so you should make success ridiculously easy. Later, you can ramp up your minimum goal that defines success.
Let's say you're at work, planning to BP IF through the day, but you often mess up and go to the cafeteria. (Because you were triggered by the smell and the ability was high because it's just down the hall. Here's how you'd handle it: "Perhaps I will go to the cafeteria today, but first I will eat 1 raw almond." If that's what happens you met your goal. If you eat 10 almonds and still go, perhaps you're not so hungry so you eat a bit less crap. Or, there's a decent chance you eat a bunch of almonds and end up not going to the cafeteria. The only way to fail is to not eat one almond. Next week, bring a BP meal, with the goal of eating just one bite before you go to the cafeteria. Similarly, chances are you'll just finish eating that meal and not go to the cafeteria, but if you do, you won't experience a failure cascade.
This is also the reason retailers will give incentives, insane deals, or free samples for your first purchase: they know they'll get the most resistance before the first purchase, but once you make that initial purchase, you'll be much more open to future purchases. They want you to establish a tiny habit of receiving products from them, even if they're giving something away for free.
His third big strategy for behavior change is...
Feedback loops:
A feedback loop is a reasonably judgement-free system that says "this is what you're supposed to do, and now let's compare it to what you're doing." Have you ever seen one of these speed limit signs?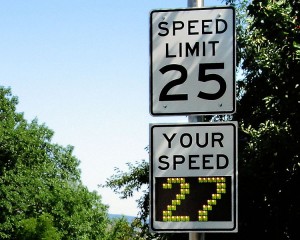 Studies show these signs reduce speeding more than cop cars by the side of the road AND the reduced speeding behavior continues about 5 miles further down the road than for a cop car. The cop car is the possibility of punishment. This is just a gentle nudge, and it works better.
Feedback loops are one of the reasons so many BPers use tracking/logging systems. Just the act of writing down what you ate makes you consider whether or not you're glad you ate it. And, you can look back and see the data on what you ate vs. how you felt. For this reason you should still log what you ate even if you fell off the wagon.
Putting it All Together:
Ok, let's say you want to go full BP diet, and you've continually failed trying to do it all at once. According to these models, you need to:
- increase your ability to succeed (use strategies to make it easier like pre-cooked meals)
- trigger yourself (alarms, text alerts, whatever works for you)
- attempt to decrease your ability to fail (throw out junk food)
- become aware of triggers for failure, and try to preempt them
- establish small, attainable goals to start, so small you can't fail
- establish feedback loops (tracking/logging, a friend asking you what you ate every day)
- dial up your goals over time