Does Starbucks Routinely Test For Mold And Mycotoxins?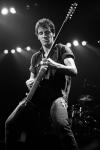 rmathes
✭✭
a guy I know and respect from another message board posted this, after we had a discussion about bulletproof coffee:
Rick, you may have a reaction to Starbucks coffee, probably due to their roast (on the dark side) not sitting well with you, but they have access to the best beans in the world (they pay the highest price and get pick of the litter), and since they roast everything at one site and have the absolute strictest QC in the business, it isn't mold you're getting. They are anal to an extreme degree about that. Straight from the horse's mouth BTW.
when I politely challenged his information (i typically feel like crap after drinking starbucks, so rarely do anymore unless there's zero alternative), he posted this:
Starbucks relentlessly test for mycotoxins at the plantation level and at the plant. It is as clean as I think it is because one of the people who does it for a living lives four houses over from me.
Does anyone know if this is true or not? Just curious. I've always found their coffee way overrated, back when I drank other stuff. I always preferred Peets. Actually just ordered Peet's San Sebastian (guatemala) and Costa Rica beans to try out, getting a bit bored with Dave's beans and would like some variety if I can find alternatives that keep me feeling great.
But if Starbucks is actually routinely testing for these issues, that would be a good thing.