Dr Walter Willett And Polyunsaturated Fats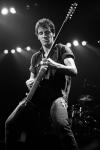 rmathes
✭✭
I'm reading through all the transcripts from Mark Hyman's "Fat Summit". I get to Dr Willett's and what I'm reading there is basically the opposite of what so many others are teaching, like Asprey and Kresser and Sisson.  For those who don't know, Willett is one of academia's leading experts on nutrition, is the chair of the nutrition department at Harvard and probably has access to more academic studies on nutrition than anyone else alive. He's saying that the data is clear, that from a health (especially cardiac) perspective, polyunsaturated fats are much healthier than saturated fats, and that saturated fats have the same basic health impact as carbohydrates.  He also says that we need both omega 6 and 3 fatty acids and as long as we have sufficient levels of both, the ratio of them is basically meaningless.
Is anyone here familiar with his work enough to be able to credibly comment on his conclusions?  Soybean and canola oils are healthier than grassfed butter and coconut oil? High levels of omega 6s to 3s is just fine?
I started reading those transcripts expecting to see more data in support of the new wave of thinking on saturated fat, and with Willett's, got anything but.