Open Sesame Coffee Recipe
Sesame Snap Coffee
Ingredients
-   16 oz. hot , freshly brewed coffee
-   1/2 cup of organic goat-milk butter or grass-fed organic butter
-    3 tablespoons  of organic cold-pressed sesame seed oil
-    optional : organic unsweetened sesame seed butter (use sparingly if intermittent fasting)
-    one tablespoon powdered stevia or preferred sweetener (to taste)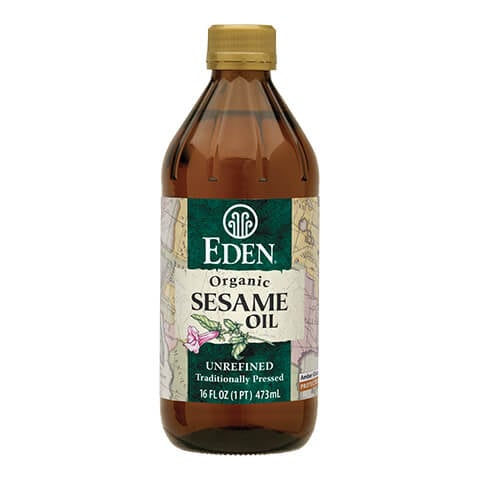 Directions:
- Warm up  up your blender and mug - fill the carafe and mug with hot  tap water and let sit
 while your coffee is brewing.  (Cool, thick glass blenders and cool, thick coffee mugs act as a heatsink
 [absorb heat] & act to over-cool the coffee.)
- When your coffee is brewed and ready, empty the hot tap water from your blender and mug. 
   Your blender and mug will be warm and ready to use without over-cooling your coffee.
   (This is important because the stevia, butter, and sesame butter dissolve
   more effectively in hot coffee. Coffee is better served hot, not luke-warm, so pre-warming
    your blender carafe and mug will help to retain the heat of the coffee.
    If you use a drip system, pre-warming the glass coffee pot will also help with this)
I recommend cooking this mixture together in a stove-top pot before blending it.
Especially if the butter and/or sesame butter which you are using are  coming straight
from the fridge. If these are refrigerated, and you desire to have hot Sesame Snap coffee,
use a small stove-top pot to melt the cold  butter and cold  sesame butter into the coffee after it is brewed. 
You may as well, then, throw your other unheated ingredients into the stove-top pot with them
(such as your stevia [powder or liquid] or Xylitol or Splenda etc., whichever you use,
and your MCT oil or coconut oil and sesame oil and whatever else you might think of throwing in,
like a bit of honey or coconut sugar or some sesame seeds. 
Heating it all together in a stove-top pot before blending the mixture  in the blender ensures that
everything dissolves together,  and that it will still be nice and hot on serving.
Even if your butter and sesame butter, sesame oil etc. are not refrigerated, you may
consider using a stove-top pot to heat them together, as even unrefrigerated butter and sesame oil
and sesame butter, etc. tend to cool the coffee more than might be desirable.
Melting the butter on the stove helps create hot sesame coffee. (do not overcook your butter),
Melting  sesame butter on the stove
- Add the hot mixture (butter, coffee, stevia , sesame oil, and sesame butter) to the blender
- Blend for one minute on the highest setting.
- Open  Sesame ....you have made Sesame Snap coffee
I cannot decide whether to call this recipe Sesame Snap Coffee or Open Sesame Coffee
Not sure if this is bulletproof but its a recipe I made up and tried this morning.
I got the idea from the memory of those honeyed sesame-seed wafers near
the cash register at every health food store.
I propose that Sesame Snap Coffee be moved to the Bulletproof Recipes section or Bulletproof Coffee section,
The recipe calls for use of unsweetened ground sesame seed butter, which I understand could throw it short of bulletproof, carbohydrate-wise, if used to excess.  In that case, the unsweetened sesame butter could be designated as optional in the ingredient list, with the caveat that it is to be used sparingly by those  wanting to benefit from the intermittent fasting aspect of BP coffee.