My Reading Vision Has Deteriorated On Bpc, Any Idea Why?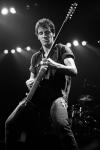 rmathes
✭✭
I started bulletproof coffee maybe a couple of weeks ago. In that time I've had a marked deterioration in my reading vision. I'm a 52 year old male in reasonably good health at the moment, but coming out of some adrenal fatigue issues. I'm feeling great on BPC and really enjoy it. The only negative symptom I'm having is that where previously I only occasionally needed reading glasses, now, I'm finding that I need them much more frequently since starting BPC.
I'm hoping this is temporary, something like "liberating toxins from the occular neural tissue" or some such thing, lol. My distance vision is fine, don't seem to have any issues there, it's just the close up stuff.
I did a search of the forum, found someone having blurred vision and migraines. Was going to add on to that topic but those really aren't my issues. Just wondering if anyone has any idea why I'm experiencing this. Thanks for any replies.