Home
›
General Discussion
Bulletproof Vibe Whole Body Vibration Plate Questions
I've already looked through the forum threads. Those of you that have it and like it, can you explain why and how you use it?
Anyone have it and regret buying it?
I only tried it once or twice at the bulletproof conference and it is amazing. But, the amount of brain shaking when your joints are locked is a little/lot worrisome. I know it's recommended not to use any vibration more than 30 minutes a day. Intuitively, it doesn't seem healthy to have one's brain shaking so vigorously. It just didn't feel good when I tried it. But, other than that the machine feels amazing.
Someone mentioned that she heard of a retinal detachment from a vibration machine.
Bulletproof Vibe claims to stimulate better brain function. Is that just from the intense circulation of blood and lymph, detox? Again, it feels great (from my very limited exposure) but am really, REALLY unsure about the long term consequences of shaking one's brain and have it constantly hit the skull. It seems like micro trauma. And as one gets older (from brain atrophy), there is more room for the brain to shake so maybe that's even worse. Similar thing for babies but because their brain hasn't completely grown (who would obviously never utilize such a thing so that's a moot point).
I think I would probably err on the side of caution and use it for three 5 minute sessions. Bulletproof vibe has a 15 minute max usage.
Bulletproof vibe is manufactured by Bulletproof. I was told that Power Plate brand is the only one that has patented a certain vibration, frequency, etc. (or so I'm told). Maybe this is misinformation but supposedly Power Plate is the only vibration company that uses the same parameters tested years ago by Russian scientists.
LASTLY, how does Bulletproof Vibe compare to Power Plate PowerPlate MY3 (if anyone has tried both)? The Power Plate My3 has a slightly bigger base, is more expensive, and has a frequency of 35 Hz (vs 30 Hz for bulletproof vibe).
http://www.vibration-training-advice.com/consumer-guide-and-safety-program/lineal-and-pivotal-safety-programs/lineal-program
Some CONTRAINDICATIONS (NOT Absolute) for Vibration:
Pregnancy
Detached Retina
Acute/ Deep Vein Thrombosis
Serious Cardiovascular Disease
Pacemaker
Chronic Fatigue Syndrome
Acute hernia, Discopathy
Acute disc related problems, Spondylosis, gliding Spondylolisthesis or fractures
Severe Diabetic neuropathy
Tumors
Recent Surgeries
Epilepsy
Gallstones, Kidney stones, Bladder stones
Cardiac dysrhythmias
Acute Rheumatoid Arthritis
Acute/sever inflammations, infections and/ or fever
Acute Migraine
Fresh (surgical) wounds
Surgical metal implants
Osteonecrosis
Severe Osteoporosis with BMD < 70mg/ml
Metastatic Tumors
http://bjsm.bmj.com/content/39/9/585.full
http://www.nbcnews.com/id/18923291/ns/health-fitness/t/shake-your-way-skinny-experts-fear-risks/#.VEwa2Uu0ZZg
https://www.bulletproof.com/whole-body-vibration-plate
https://www.bulletproofexec.com/bulletproof-vibe-whole-body-vibration-plate/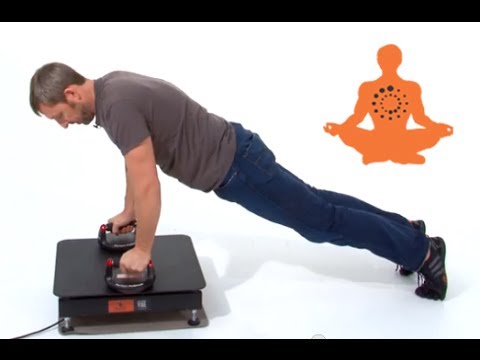 Bulletproof® Vibe Whole Body Vibration Plate
The Bulletproof Vibe currently ships only within the United States. Free shipping included!
Whole Body Vibration (WBV) therapy is used in universities, professional sports teams, and medical facilities around the United States.
Bulletproof Vibeâ"¢ is the latest in WBV therapy. WBV was invented by Russian cosmonauts in 1960s and has been seen to
Detoxify and strengthen the immune system (pumps the lymph system thoroughly)
Help regain muscle strength and bone density
Reduce recovery time
Stimulate healthier brain function
Each session on the Bulletproof Vibe lasts no longer than 15 minutes. The user is able to control the duration of the WBV session.
Bulletproof Vibe Features
Bulletproof Vibe has a constant speed motor that runs at 30 Hz. Many WBV machines have adjustable speeds, but in order for this to be affordable they must use poor engineering techniques. The best way to make a WBV unit affordable AND high quality is to use a constant rate motor. There's lots of research showing that 30 Hz is the best speed for WBV.
Bulletproof Vibe is the perfect weight that can be moved but will also stay in place during use. It measures 24″ x 24″ 9″ high, so can fit almost anywhere.
Bulletproof Vibe is uniquely designed to transfer vibration energy to the user, not to the floor. Many lower priced WBV units and even some of the higher (over $2,000) priced units have no means to isolate the vibration energy to the platform. On these units the platform is rigidly attached to the feet. The Bulletproof Vibe has four rubber mounting pads that isolate the platform from the frame, which means most of the vibration goes to the user and very little to the floor. Not only do you get a better workout, it's more quiet and it stays in place.
It has a 15 minute timer. Believe it or not, some WBV units do not have a timer. Current WBV research shows that 30 Hz for 30 minutes a day or less provides the max benefit.
Bulletproof Vibe Specs
0.2-0.3 G-forces (depending on a person's body weight)
30 Hertz fixed frequency
Motor: 1Ž4 HP motor running at 1,725 rpm
Amplitude: 4mm (peak to peak)
Size: 24″ x 24″ x 9″
Weight: 93lb (42.18kg) Shipping, 63lb (28.58kg) Unit
Warranty
The Bulletproof Vibe comes with two warranties:
1-year free replacement of the motor, switch and connecting electrical lines.
Every other part covered for life. If anything happens to the frame, top plate or feet, let us know and we will fix the problem free of charge.
The fine print: For either Warranty One or Warranty Two to apply, the Bulletproof Vibe must be delivered to the manufacturing facility in Texas for repair. Contact our Upgraded Selfsupport team for details.
Bulletproof Vibe is made in the United States. Most WBV units that have the quality of Bulletproof Vibe cost over $4,000.
We love our machine because of the rugged simple design, quality USA construction, reasonable cost, and no unnecessary bells and whistles.
If you purchase a Bulletproof Vibe and your UpgradedSelf.com order contains additional products, please note that the Bulletproof Vibe ships separately.
POWER PLATE MY3:
Grade: Consumer
Color: Silver - additional colors available upon request (additional fee with a 12 week lead time)
Frequency / Pre-set Frequencies: 35Hz
Time Selections: 30 or 60 seconds
Vibration Energy Output (amplitude): Low or High
Operation: User-friendly interactive display
PrecisionWaveâ"¢ Technology: High-fidelity harmonic vibration system that provides uncompromising performance for unsurpassed results
Dimensions (W x D x H): 25in x 29in x 60in / 64cm x 74cm x 152cm
Platform Dimensions (W x D): 25in x 14in / 64cm x 37cm
Weight: 126lb / 57kg
Maximum Load: 264lb / 120kg
Power Supply: 100-240 VAC, 50/60Hz Universal Voltage
Nominal Power in Operation: 250-285W
Certifications:


CE and EMC (TUV certified)
RoHS / WEEE compliant
Tagged: